South Central Kentucky
12870 Scottsville Road
Lucas, Ky. 42156
P: (270) 646-2660
Middle Tennessee
1280 S Water Street
Gallatin, TN 37066
P: (615) 461-8554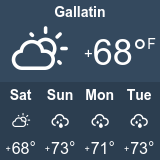 Fishing Report
Middle Tennessee Fishing Report - 4/12/2017
Create On: 4/12/2017 8:17:31 AM
The last three weeks have been slow but we have caught some big fish. Brendon Edel and I went out and we managed 7 fish one being an 8lb large mouth. Another night trip I took Tommy Elston we caught 6 fish one being a 5lb large mouth.
Middle Tennessee Fishing Report - 3/5/2017
Create On: 1/19/2017 8:56:10 AM
I took some friends out this past week and we go a few nice bass on crank baits. We were on Old Hickory Lake.
Middle Tennessee Fishing Report - 3/5/2017
Create On: 3/5/2017 8:07:30 PM
Took Randy Parish out caught 5 2 lb bass
© 2019, Calico Jack's Boat & RV, All Rights Reserved